Managing Partner Layne Kasper interviewed in Fort Worth Business Press.
************
Energy deals dominated merger and acquisition activity in 2011
By Rob Robertson rrobertson@bizpress.net
Reporter
The energy industry dominated a strong 2011 for mergers and acquisitions in Texas, but industry insiders are unwilling to predict a repeat in 2012.
Led by the energy sector, mergers and acquisitions in Texas finished with 335 deals worth $140.3 billion in 2011 – nearly a 50 percent increase by value compared to 2010, according to Mergermarket, an independent M&A intelligence service.
The fourth quarter was particularly impressive. There were 74 deals in the final three months of 2011 totaling $54.4 billion – a 176 percent increase from the same period last year ($19.7 billion), and a 67 percent increase from the third quarter of 2011 ($32.6 billion). Fourth quarter 2011 was also the biggest quarter by value since the fourth quarter of 2009 ($89.4 billion).
The energy sector is driving performance in Texas, both in the volume of deals and in the dollar value. Energy alone accounted for $112.7 billion worth of deals – a massive 80 percent of total values for the state.
Kinder Morgan's $37 billion purchase of El Paso Corporation and BHP Billiton Limited's $15 billion purchase of Petrohawk Energy led all transactions in the state.
From Cisco to Singapore
The most significant deals to the Dallas-Fort Worth were Energy Transfer Equity's $9 billion purchase of Southern Union Company and FTS International (formerly FracTech)'s 70 percent majority sale to a Singapore investment group.
FracTech, which began as a family-operated oilfield services company in Cisco before moving its executive headquarters to Fort Worth, was raising money for an initial public offering when the company attracted the attention of the Singapore sovereign wealth fund – essentially the private equity fund of the nation of Singapore – which decided to buy into the company.
Chad Watt, Mergermarket's Texas correspondent, said FTS International's journey was particularly compelling.
"Suddenly this company out of Cisco, Texas – a community that makes Weatherford look like a metropolis – has now just gone international," he said. "It's a great story."
Watt said while the mega-deals may have dominated the headlines, a number of middle market, private company deals have been going on below that that have helped sustain the M&A market here.
Deals involving companies on the low end of the spectrum ($5 million to $500 million) in Texas increased by 129 over 2010. The total value of the deals was lower, but Watt said that's more a reflection of the new economic reality than anything else.
"The fact that you still have that many deals going on shows that the deal ecosystem in Texas, including North Texas, didn't die in 2008 when things went south," he said. "Transaction-to-transaction they may not be getting as much money as their counterparts did in 2007, but it is a sign that those professional services groups survived the downturn and are still quite capable of doing meaningful work here."
Tough going outside of energy
Still, putting together smaller deals outside of energy has been significantly more challenging over the past 18-24 months, according to Layne Kasper, managing partner of Kasper & Associates in Fort Worth, a mergers and acquisitions firm that serves middle-market companies.
"There are just many more buyers than there are sellers, he said. "A lot of the business owners we see … are waiting for their own performance to improve before they go on the market. Because of that, there aren't a lot of good companies for sale these days."
Kasper says it's an effect of the national recession on many businesses, which saw performance declines in the past three years and subsequently lower valuations. The result is that many sellers are choosing to hold on longer and ride out the downturn in hopes of improving their selling price in the future.
"I think after these companies have gotten a good year or two [of higher performance] under their belt, then they'll be interested in entering the marketplace," he said.
It's even been tough at the top, as the biggest deal in Texas outside of energy was the one deal that did not close in 2011: AT&T's attempted $39 billion purchase of T-Mobile from Deutsche Telekom. That deal ended up falling through in December in the face of regulatory pressure, Watt said.
Looking ahead – sort of
Watt said it's impossible to predict what 2012 may hold, but the general consensus seems to be that deals volume could pick up through spring but slow down in the summer as the election season ramps up.
"The smart players are the one that are going to be executing their strategy come what may, rather than just waiting on some outside factor to tell them what to do," he said. "The good investment bankers and lawyers are out there with their clients saying now is the time to hit it."
This is especially true in oilfield services, where natural gas prices have gotten so cheap, Watt said.
"All the big companies are pulling back their drilling, therefore the service providers down the line are probably going to see a slowdown in their volume of work up ahead," he said. "If you were going to do something strategic on the sell side, then you probably should have done it already."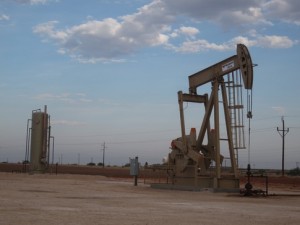 Oil pumps like the one in Stanton, Texas are a common sight all across the horizon in far West Texas. Energy sector deals dominated the M&A activity in Texas in 2011.
Tracy Sabo/CNN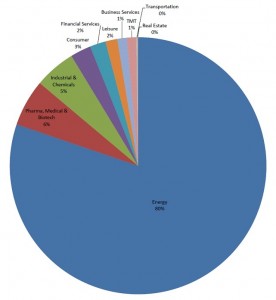 Texas M&A deals by value, 2011
Mergermarket
http://www.timesleader.com/FwBp/news/banking_and_finance/Texas-MA-gets-a-boost-from-oil–gas.html